Amea
Mengazzoli Apple Balsamic vinegar, obtained by the natural fermentation process of concentrated apple juice which is left in a barrique for a long period of time, is a vinegar characterized by a strong sweet-sour aroma and velvety texture.

This Apple Balsamic vinegar stands out not only for its quality, but also for its packaging, which is particularly refined and rich in information.

The bottle, for example, is designed to appreciate the characteristic colour of the vinegar and the slow fluidity of the product, the display, instead, gives us the possibility to guide the consumer towards a conscious purchase by providing him with information about the content of the product, the pairings and our suggestions for use.

All this complemented by the QR code that provides simple, clear and dynamic communication, to guide cooking enthusiasts in the discovery of this magnificent product!

Mengazzoli Apple Balsamic vinegar is ideal with:
– risottos with herbs;
– white and veal meat;
– boiled meats and vegetables;
– apple strudel and cakes with fresh fruit;
– fruit salad;
– ice cream.

Excellent diluted in water and drunk as a thirst quenching drink!
Apple's culture
Originally from Central Asia where it was already cultivated in the Neolithic period, the apple spread through the Middle East, first to Egypt along the Nile valley and then to Greece. Thanks to the conquests of the Roman Empire it arrived in the West and from here, all over continental Europe.
Find out more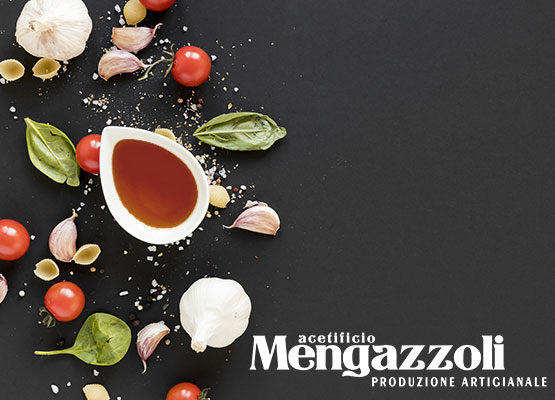 RECIPES
Find out all our ideas and suggestions
In this area we collect all the tips, tricks and suggestions for perfect dishes based on Apple Vinegar – Apple Balsamic Vinegar, which can be useful in the preparation of a quick and at the same time tasty lunch or dinner.
Recipe area